Katie McDonough has always been drawn to flowers. As a kid, she gathered them in loose arrangements finding beauty in every detail—from the flower to the greens. When asked what drew her to them she replies, "I loved their wildness." Today, as a floral artist, she continues to celebrate all the parts of a flower. She jokingly refers to her approach as "nose to tail."
Operating out of her Baltimore studio, Katie, who started her career as a photographer, primarily uses flowers locally sourced and grown in the U.S. to create botanical works of art for weddings, special events and pop up shops. We spent the day with Katie to learn more about her work and also a few tricks of the trade.
Tell us a little about Petal and Print.
I have always loved paper and flowers, for as long as I can remember. I started in the wedding industry as a photographer (I graduated from MICA with a BFA in photo) and found that my photography customers were looking to customize their weddings more and more through their choice in invitations and ultimately flowers as well. It's a much longer story than that, but no need to bore you with the details. What it boils down to is that every single project that I do is custom, from scratch, for every client, so whether you hire me for paper goods or flowers, the design is an expression of you and your tastes.
You've had a nice bit of diversity in your background. How did you arrive at designing with flowers?
Here is where the long story comes into play. I'll try to keep it short. I started out as a wedding photographer, fell into the world of invitation design and letterpress printing, became a partner in a small custom invitation and stationery firm where we shared studio space with a florist. I helped out on flowers from time to time, freelanced for a few years & then had a baby. When my business partner moved out of state I started Petal and Print, where my love of paper goods and flowers came together. Simple, right?
Do you think your photography background influences your arrangements?
Absolutely. I design with the ultimate thought about a piece being what these compositions will look like in photographs. I treat each piece as a sculpture really, mixing colors and textures and scents to balance each other or contrast completely. A piece does not live on beyond a few days, unless it lives on just a little bit as a photograph, so yes, I do think about that as I design. Ultimately photographs are what sell my work, so there is a little bit of business in that.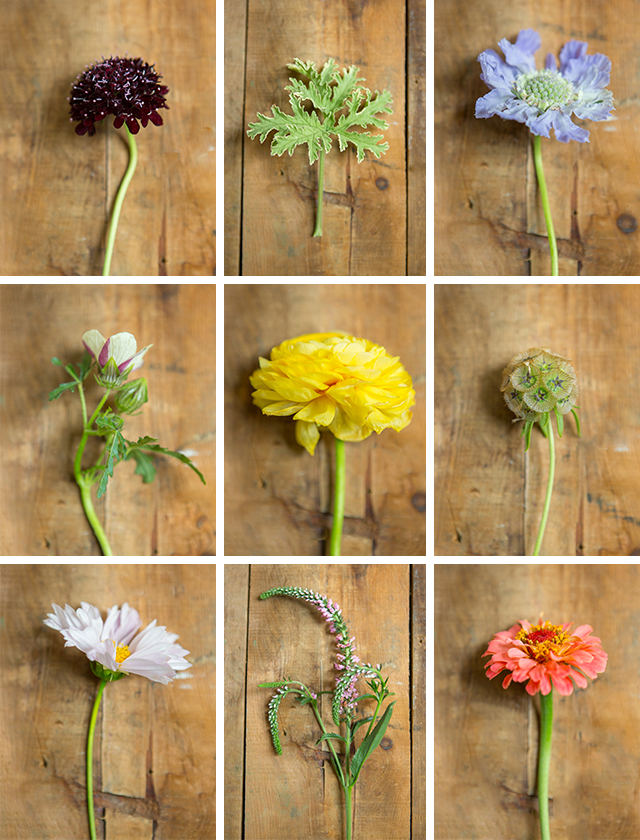 Let's talk greenery. Filler or focus? Discuss.
Ahh, greens are some of my favorite and most important elements to work with design wise. I don't know that I would totally consider them a focus, but they are definitely not filler. Maybe they are the bones of a piece or something like that.  They determine the overall structure and shape and drape of a piece for me.
I love herbs and vines and all that gardeny goodness. I actually grow just as many varieties of greens as I do flowers. They are hugely important. I like to use at least three kinds of greenery for a mix of textures, scents and colors. And I will cut anything that stays alive for a few days in water. Tomato greens growing rampant in my compost? I'll cut them! They drape perfectly and they smell just like summer.
Okay, let's go deep here for a minute: Talk about working in a temporary medium. Any bouts of melancholy knowing it's all temporary? Or do you find freedom in it? 
Like I said, I think about how flowers can live on in a photograph, but that's really only true for me in a portfolio sense. The real beauty of flowers is their fleeting and ephemeral nature. Some varieties bloom for a single week or month. You use them up as much as you can, breathing in their scents and taking in their textures and colors for this moment in time because it will be a year before you get to see them again!
I think it is artistically challenging and refreshing for my palette to change like that—by color, by texture, by season. Part of what makes people love flowers so much is their fleeting nature I think. I guess I find freedom, or, at least joy in it.
"The real beauty of flowers is their fleeting and ephemeral nature. Some varieties bloom for a single week or month. You use them as much as you can, breathing in their scents and taking in their textures and colors for this moment in time…"
Speaking of flowers not lasting forever, any tips for making them last longer?
Keep them out of hot direct sunlight and keep them cool. Sometimes I even add ice to the water! Keep your water full and fresh. It's best to fully dump the container and refresh the water often. If you can't dump it, at least make sure to top it off with clean water. And don't expect your flowers to last forever. Once they start to wilt or have that near death flower smell (one of my most hated scents), compost them!

Where can I get arrangement-worthy flowers?
The ones at the grocery store look pretty sad. Whole Foods actually has pretty good flowers. They tend to buy in bulk from local growers in whatever region they are. Another option is to purchase from a wholesaler or direct from CA or Oregon farms; especially if you are looking for pricey roses. In the late spring, summer and fall, there are lots of local farms growing flowers, whether they are selling them directly off their farm where you can go cut them, or at the farmers markets about town. You can also clip them fresh from your yard!
Any tips can you offer a novice like me who wants to create a simple arrangement? 
I would say don't over complicate it. Find a vessel you really like and maybe have even worked in before. Think about where you will put the piece. Will it be against a wall or in the center of a round table?  If your piece is going to be on the smaller side, no need to build a tape or wire structure, but sometimes on bigger pieces, having a little bit of a grid for your base is helpful.
Otherwise, I just work in sort of a layered spiral fashion, usually beginning with greens. I lay in a round of greens, all generally crossing each other in the center of the piece, then I layer in flowers and greens as I see fit—color and texture wise—in the same kind of spiral on top of that. Each "layer" helps lock in the one before it, creating a sound structure for your piece. That way, the flowers won't just loosely flop out of the arrangement. Work with colors, shapes and textures you like, don't take it too seriously, and enjoy the beauty of each individual bloom!
You taught a flower arranging class with Make Tribe at one of our favorite shops, Becket Hitch. Any more classes in your future? 
Yes. I am still working through the logistics on these, but I think I would like to offer three to five a month. They'll be a little more intimate and focused than the one I taught at Becket Hitch.
I want it to feel like flower school, so if you choose to take a few of them, the knowledge from each class will build on the one before it; kind of like a semester in school would build on the one before. They'll certainly be approachable for floral enthusiasts who only want to take one, but my hope is that I will have repeat students—maybe some who hope to run a floral business of their own someday!
Tips and tools
My favorite shears are the Joyce Chen Unlimed Kitchen Scissors. I give these as gifts I love them so much!
Work with fresh and seasonal flowers in natural color palettes, that'll always give you the most natural and organic look.
Don't be afraid to use herbs or greens you might traditionally think are for cooking. Basil is one of my favorites! Be adventurous and think outside the box.
Same with vessels, if it can hold water (or if you can put a jar or liner inside that does) it can hold flowers!
If you love to arrange flowers, I can't recommend taking a live class enough. There are lots of books and probably even some good online DIY tutorials, but hands on experience can't be beat.
INFO
Petal and Print
Petal and Print on Instagram